MESSENGER/400

Developed by NYCO and a leader in its field, our flagship product is a message monitoring and texting/paging/e-mail software package for the IBM iSeries & AS/400.
MESSENGER/400 functions in several integrated areas:
Message Management
MESSENGER/400 links with mobile phones, pagers and e-mails to send text messages which may be generated manually or automatically. Wherever they find themselves, relevant personnel are able to receive status messages both positive and negative - from successful end-of-day completions to application failures.
MESSENGER/400 can receive and respond to system or application messages automatically. It filters messages from any number of message queues on any number of machines and can display them on a single console. It can act on a message, for example, by running a program or command.
MESSENGER/400 is able to text/page/e-mail the appropriate personnel according to shift patterns. It acts automatically when critical situations are met. It can contact more than one mobile phone or pager at a time (an entire sales force if necessary), and works across all mobile phone and paging networks.
MESSENGER/400 has the ability to re-transmit messages automatically should a text/page/e-mail failure occur. It allows you to escalate any message to multiple mobile phones and/or pagers and/or e-mails if no action is taken within a specified time.
Message Prioritizing
MESSENGER/400 will filter messages according to severity, type, text or other criteria. In a manufacturing context, for example, it may not be necessary to monitor the payroll application through the night. In such a scenario, a response to your system's payroll might not be so critical.
Message Auditing
MESSENGER/400 will sort, collate and present messages across any size of network and display these in filtered format on a single console. It also has the ability to answer cross-system messages from a single console.
Networking
MESSENGER/400 is installed either as a Host System (which allows texting/paging/e-mailing), or a Network System (which texts/pages/e-mails via the Host).
Examples of Multiple Machine Configuration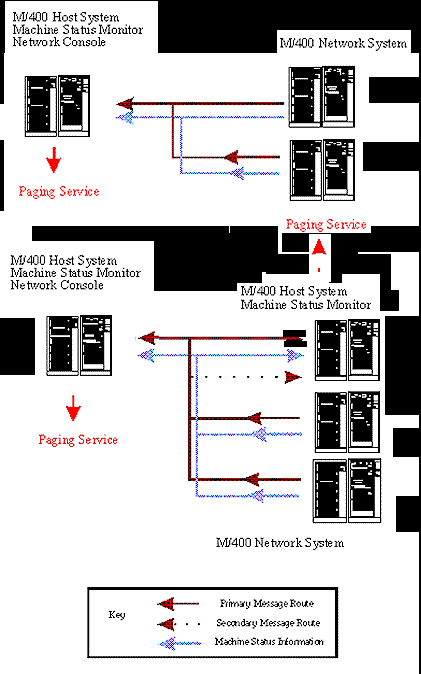 Machine Status Monitor
Machine Status Monitor displays the current status of networked machines. If the remote machine cannot be contacted, is inactive for a period of time, or if MESSENGER/400 is inactive for a period of time, then a warning message will be generated.

Network Console
Network Console is a real time display showing messages as they are generated from all networked machines. New messages can be highlighted and there is an optional alarm available. This can be used to replace the manual monitoring of message queues and has the advantage that any number of queues can be monitored together, from any number of machines and each individual queue can be filtered. Messages from any machine that appear on the Network Console screen can be answered from that single screen.
Restricted State Monitoring
The problem of monitoring the iSeries or AS/400 whilst in Restricted State, has been overcome by MESSENGER/400 through the use of a built in job activator command. Should a problem arise or the iSeries or AS/400 not come out of Restricted State, then a message is paged out.
Housekeeping
MESSENGER/400 Housekeeping is fully automatic - install it and forget it.
MESSENGER/400 monitors all message traffic routinely, allowing staff to concentrate on other tasks. Unobtrusive it may be, but the experience of many organisations is that MESSENGER/400 quickly becomes an application which is depended upon in its own right. After all, the software does the work of several people. It will be a vital tool in your unattended operations environment.
Message monitoring and reporting for the IBM iSeries & AS/400.